Subsurface Utility Engineering (SUE)
To assist in your design process Diversified Underground combines utility locating, hydro vacuum excavating and data research/management to produce an accurate map depiction of existing underground utilities. Diversified Underground's SUE services are performed in accordance with the American Society of Civil Engineers Standard 38-02 "Standard guidelines for the collection and depiction of existing subsurface utilities. Diversified Underground has the equipment and experience to provide all four levels of SUE services; Quality levels A through D.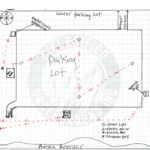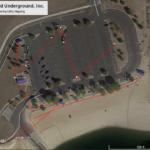 Utility Locating
Diversified Underground offers complete utility locating services for the identification and marking of public and privately owned underground utilities.
We utilize electronic designation, simple and complex induction and meticulous map and data research to ensure your facilities are protected, identified and no loss of service occurs. Our experienced technicians provide superior utility locating and are shattering industry standards for damage-to-locate ratios.
Privately Owned Utility Locating
Did you know, that privately-owned utilities account for 65% of all utilities? A private utility locate is provided by a locate company, such as Diversified Underground, that is hired by either the excavator or the utility owner (homeowner). These locates begin at the demarcation point (the point where the utility becomes private from public). All markings past this point are the responsibility of the excavator or owner
Diversified Underground offers complete Utility Locating services for all privately owned utilities. This includes but is not limited to: Electric, Water or Gas (past the Meter), communications lines between buildings, wiring to irrigation valves or private lighting. Additional educational material on private locates can be found here.
If you are interested in getting more information on private utility locate services, please complete our contact form here or call us at 303-636-9999.
Contract Utility Locating
Diversified Underground offers complete contract utility locating services for multiple utility owners. Our experienced technicians provide damage free utility locating and damage prevention services. Some of our current and past contracts includes Lockheed Martin, City of Denver, Denver International Airport, City of Longmont Power, Arista Metropolitan district, Unite Private Networks, Boulder Valley School district, Adams County 911 Fiber & Colorado School of mines just to name a few.
Electric Fault Finding
Utilizing state of the art equipment, Diversified Underground is able to identify and pinpoint exact locations of breaks and/or faults in any electric line.
Engineering Locates
We provide accurate utility locates and a detailed sketch of all utilities in our client defined scope of work. Prior to every engineering locate, our locate coordinator will collect all individual utility owner prints/maps (within defined scope of work).
These prints/maps are then given to our locator to review so that we may provide the most accurate locates/marks in the field. Our finished product includes either a hand drawn sketch (click here for example) of all utilities or at the client's request, a digital version (click here for example) of all utilities (for a nominal fee), as well as the prints/maps from each utility owner.