Benefits of Hydro-Vac Excavation:
Provides a safer and more efficient method to excavate buried utilities.
Enables a visual confirmation of surface locate marks.
Minimizes ground disturbance and reduces site restoration costs.
Eliminates the need for hand excavation, reducing damage to buried underground structures and possible worker injuries and tens of thousands of dollars in insurance claims.
Partial Pothole Data Report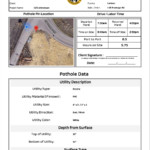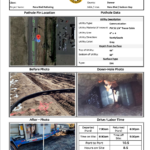 Hydro Excavation
At Diversified Underground we work hard to hold on to our roots; to us diversity means not only having a versatile workforce, but it also having the right tool for the job. In saying this, we realize that most hydro-excavation projects can be done with smaller vac trucks – which are more economical and maneuverable, but sometimes digging conditions are extremely difficult with large rocks, hard soil, or a high water table – just to name a few. When you run into these difficult digging situations we also take care of you with one of large vacuum units. Additionally, for each day's work we offer a partial pothole data report or a full pothole data report depending on our client's preference.
Applications for Hydro Excavation
Daylighting / Exposing buried utilities
Caisson excavation
Hydrovac Trenching
Hydro Jetting
Culvert / Invert Cleaning
Past Projects
5G Cell Sites – Completed numerous caissons at various locations for small cell sites across Colorado
Denver Bronco's – Mile High Stadium & Dove Valley Practice Facility
Completed large caissons for installation of new practice netting posts at Dove Valley practice facility
Completed over 85 caissons at Mile High Stadium for installation of new signs
DIA – Preformed and provided Quality Level A data for Concourse A, B & C